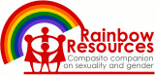 For many years, IFM-SEI is working actively to fight discrimination on the grounds of gender and sexuality, and has a strong Rainbow Network of LGBT*IQ activists supporting each other.
Our successful manual Rainbow Resources contains educational activities on issues such as identity, gender equality, heteronormativity, bullying, love and families in order to promote human rights education with children on sexuality and gender rights. It has been developed by a group of experienced and enthusiastic educators, because educational materials on these issues especially for children under 12 have been missing so far.
Download the PDF version of Rainbow Resources.
Francais Espanol Deutsch Finnish Lithuanian  Latvian 
Rainbow Resources has been produced with the support of the European Youth Foundation of the Council of Europe.