— Extended Deadline —
The deadline for applying has been extended until the 31st of July. Are you going to miss this opportunity?
Framfylkingen warmly invites IFM-SEI member to join the international youth conference 'Willy Brandt – Youth Conference against Extremism'. The conference will take place on Utøya, Norway, from the 1-3 September 2017.
Aim
The conference will aim at building awareness around the topics and issues concerning extremism. It will be giving democratic education and opening up for conversations providing participants with tools for handling the current and future situations we are and might be facing in our communities. Our vision is that we build a network of youth standing together in the fight against extremism.
Method
This we will do by inviting relevant and educating speakers on the topic for an input-session. Afterwards we will work more practically in groups, creating a unifying understanding of the situations and work on how we can combat extremist thoughts and actions. This will be our output-session, creating a network and creating tools to keep up the work fighting extremism in our communities.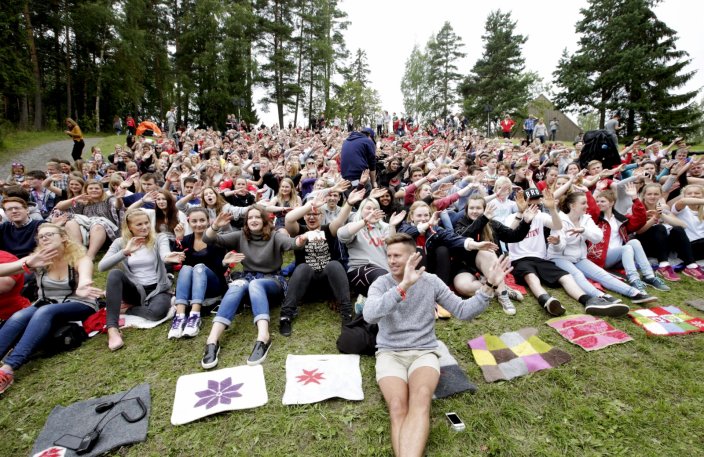 Facilities
The conference will take place at Utøya, just 40 minutes' bus ride from Oslo city centre. The island provides us with excellent and modern conference facilities, with a newly built conference centre, work space and plenty with outdoor areas. There are indoor sleeping facilities and shared showers and toilets. If wanted, there are possibilities to sleep outdoor in tents. 
Meals
There will be a kitchen team providing for meals during the conference. There will be breakfast, lunch and dinner served every day, as well as coffee breaks with fruit and biscuits twice a day. If you have any allergies or special diet, we ask for you to please be specific about that in your registration.
Costs
Travel costs must be paid for by the sending organisation or the participant (from the origin to Oslo airport) unless otherwise stated. There is a 20€ participation fee per person, which contributes towards accommodation, food and programme.
Visas
If you require a visa, you must start the process as soon as possible. Framfylkingen and IFM-SEI will provide visa letters if you state that you need one in your registration form.
Participant criteria:
Be active in your organisation with children and young people
Be aged 17-26
Have experience or an interest in the topic of tackling extremism
Registration
IFM-SEI activities have a hard women's quota, therefore you must send a delegation with no more than 50%+1 men. If the entire participant list is not at least 50% women we may ask for you to change your participant for gender reasons. We would ask for your participants to please complete the registration by 11 July by completing the online registration form by following this link.
Travel
You must arrive on Thursday 31 August and you are welcome to join the pre-camp for the activity from 28 August.  The seminar will finish at lunchtime on Sunday 3 September, therefore your flight must leave at 5pm on this date or later. You must submit your full travel itinerary in the application form.
Questions
If you have any more questions then please contact Kurt Frantzen at kurt@framfylkingen.no.