I am Rudy from the Rode Valken in Belgium. I am aged sixty and live in Schoten, a municipality near to Antwerp, Belgium. As far as I can remember, I have always been a Falcon. I attended an IFM-SEI camp for the first time in 1961. I was six by then. It was in Deurne, Belgium. My father brought me there with him but had to bring me back home because I could not sleep. Since then, I have been to about ten IFM-SEI international cam­ps.
A few years later, in 1985, I went to Döbriach, Austria. The camp was organised in a beautiful vicinity close to a lake and surrounded by mountains. There I met and befriended Ulla, a Finnish lady who now works in the Socialist Party of Finland.
My next destination was the beautiful town of Imatra, Finland. The camp held there in 1988 was in the middle of the woods and not far from a lake like in Dobriach. Some trees were cut down so that our tents could stand. I remember there were small insects biting our feet, which made it difficult to walk properly afterwards. The little anecdote is that the German delegation was sent home because of nuisance and… drunkenness! They came along with a van full of alcohol! The IFM-SEI secretariat was installed in a caravan.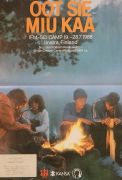 During our time in Finland, we went to Russia together with the IFM-SEI Secretariat and the present delegations to visit the local pioneers group who was experiencing drastic financial moments.
As for the camp held in Norrkoping, Sweden in 1991, it was quite fancy. We stayed in a luxury village instead of a standard campsite. This while the office of Ingrid, IFM-SEI's office secretary, was found in an ice hockey field. 1991 was also a difficult year for socialists in Belgium as there was an attempt to murder a member of the Belgian French-speaking Socialist Party!
This was totally different from what we had afterwards, in 1997, in Zanka, Hungary. Held in a sports complex, there was not enough food but we found a pizza shop nearby. We had a lot of pizza! We found a lake full of fish nearby and had warm water.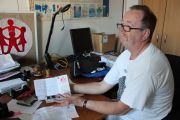 In 2000, I went to Austria once more. The least I could say is that the camp site chosen for this occasion in the town of Wiesen was far from civilisation.
The next IFM-SEI camp took place right in the mountains of Huancayo, Peru in 2004. I remember that from early in the evening, wind would come over the top of the mountains and it would be really cold. Conversely, days were very hot. The food available was pretty typical of the place and was prepared in a very special way. They would dig hole in the ground and turn it into a fireplace to cook. The result was that lots of people had intestinal problems and got ill. And there was a little suspense moment when we got an unexpected visit from the control agents of the EU who came around to check the effective use of our project grant.
To finish, together with our francophone Belgian counterpart "Les Faucons Rouges", I attended the "Global Village" camp held in 2006 by the Woodcraft Folk in Maidstone/Denting, U.K. The camp was organised in an old airfield used during World War II.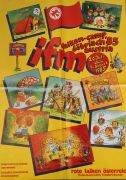 When I think about all the camps I attended, I can't really say one of them is my favourite. They were all special in their way. Nevertheless, I can say there has been a lot of change with time. Earlier camps were mostly based on games and "scouting". Nowadays the focus has shifted to education, which makes sensen. Another point which has known major transformations is the logistics of camps. There was just a little place left for comfort in my first camps. This is not the case anymore. Campers now have access to better facilities such as a "comfortable bed" and warm water. We have moved from rustic camps to more modern ones.