Rainbow Resources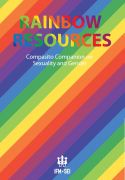 Rainbow Resources is our successful manual for Human Rights Education with children on sexuality and gender rights. The publication supports young people to facilitate human rights education with children on issues such as identity, gender equality, sexual diversity, heteronormativity, homophobic bullying or love and families.
After the success of our 2011 edition, we have updated and revised the publication and translated it into more languages.
Here you can find the fulltexts of the language versions:
English version: http://ifm-sei.org/…lish_web.pdf
German version: http://ifm-sei.org/…rman_web.pdf
Spanish version: http://ifm-sei.org/…nish_web.pdf
Lithuanian version: http://www.ifm-sei.org/…nian_web.pdf
French version: http://ifm-sei.org/…ench_web.pdf
If you wish to order hard copies of the German, Spanish or English version, please contact the IFM-SEI secretariat at contact@ifm-sei.org.
Attached files