All Together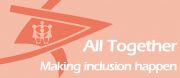 All Together is IFM-SEI's long term inclusion strategy. Initiated in 2007, the strategy aims to support member organisations in being more inclusive of young people with fewer opportunities. As part of the All Together strategy, IFM-SEI has organised training courses, seminars and study visits on the theme of inclusion and produced the All Together Inclusion Handbook in 2009. We are currently developing the second phase of the strategy – aiming to involve young people with fewer opportunities more actively at international level and within decision-making bodies. Peers without Frontiers and All Together Against Climate Change contribute to the All Together Strategy.
You can access the handbook (available in English and German) here: http://www.ifm-sei.org/…handbook.pdf
For individual sections and activities, search the toolbox.