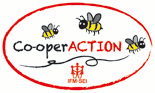 The Co-operAction project of the International Falcon Movement-Socialist Educational International (IFM-SEI) promotes the co-operative model of enterprise to young people through education, exchange and practical experience of setting up co-operative enterprises in 11 local communities. Throughout 2013, local groups learned about co-operative values and principles, developed ethical business ideas, decided on rules, roles and responsibilities in their co-operatives and started running their small businesses. They ranged from organising children's birthday parties to selling food, from urban gardening to renting out camping equipment.
Would you like to learn more about co-operatives or the co-operative values? Then have a look at the publication.
Download the toolkit as pdf.
The project received financial support from the European Commission's Youth in Action programme.