With our publications, we offer educators – group leaders, peer educators or teachers – lots of easy-to-use activities on lots of different topics. All publications have two parts – an introduction offering background information, food for thoughts and tips for educators, and an activity part with descriptions of educational methods for different age groups. You can use them in group nights, on seminars and camps, in non-formal and formal education.
You can find educational resouces and reports and toolkits
Educational Resources
These puplications where developed as part of bigger projects and edited as a collection of activities and games surronding a topic.
All Together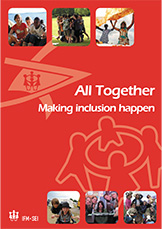 The All Together – Making Inclusion Happen handbook aims to support youth organisations in being more inclusive to young people with fewer opportunities by giving questions for reflection, training ideas and case studies with tips.
English
Reports and toolkits
Besides our longer publications, we also publish reports of study sessions and issue toolkits on various issues with tips, background information and educational materials.