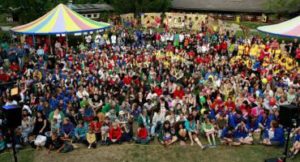 We are very excited to announce that the next IFM-SEI international camp will take place in 2020 hosted by our comrades in the UK, Woodcraft Folk. The IFM-SEI Presidium took the decision in Palestine, at their last meeting at the start of April, to host the camp in cooperation with Woodcraft Folk.
Tom Brooks, the camp's co-coordinator, came to join Presidium to present the vision of the camp. He explained that the camp will have 3 underlying principles:
It will be open and accessible for young children, with specific programme for young teens and under 10s
Systems are being put in place to support volunteers and recognise their work, so that everyone can have a brilliant time
It will be a proper international camp, supported by IFM-SEI, bringing together thousands of young people from IFM-SEI member organisations with international representatives on all levels of decision-making and delivery. We want our young people to build the international bridges our current crop of politicians insist on knocking down!
In response to the decision to for the camp to be an IFM-SEI camp, Tom told us:
We in the Woodcraft Folk are incredibly excited to be chosen to host IFM-SEI international camp in 2020! We cannot wait to meet young people from across the globe and build a truly international camp.
The camp will take place in Kent, UK, on 1- 11 August 2020. Put the date in your diary now – we hope you'll join us!
Elections to join the camp board will be taking place at the International Committee meeting 2017 in Portorož, Slovenia. More info we follow soon.