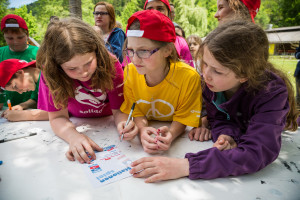 Huge Pentecost Camp of Rote Falken and Kinderfreunde in Döbriach/Millstättersee
From 14th to 16th May 1300 children and young people in groups of Kinderfreunde and Rote Falken from all over Austria gathered for a traditional camp around Pentecost time. Together they started with an opening which had the topic "Peace for all children all over the world" and where they danced a peace dance that was created especially for this camp.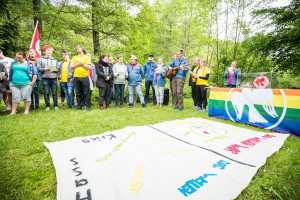 "Peace is one of the very central values of Rote Falken which we live in our daily work with children and youth. We want to provide a good life – no matter where they are from – and for this peace is a basic condition. We demand from politicians that they should invest in a good and peaceful future for children instead of financing the military and war", explained Heli Gotthartsleitner, chairman of Rote Falken.
On Sunday afternoon for the older children and young people there was a memorial ceremony for the liberation of the concentration camp Mauthausen and to remember the victims of national socialism. For this and for future memorial moments a new remembrance place was installed. At the same time, the younger children had a lot of fun with face-paint, action-painting and other fun action stuff.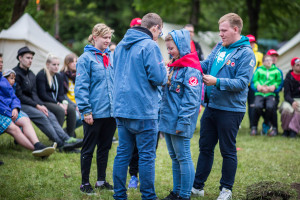 In the evening there were camp fires in the different tent villages with guitar singing, games and the traditional hand over of "Rottücher" (the traditional red scarves of Rote Falken). Some blue shirts and bracelets for our younger ones were also handed over in this moment.
On Monday it was already time for the 1300 participants to pack their bags and say goodbye. What they took with them: a lot of unforgettable memories, new friends, loads of fun and a lot of beautiful hours in this community.
Thanks to all that made this possible – to all group leaders, central helpers, the Falkencamp Döbriach and of course to all the children and youth!
Freundschaft!