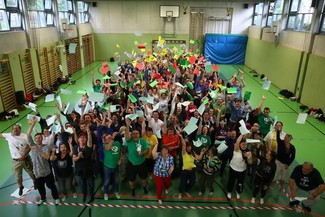 AUFBRUCH 2016 ("Aufbruch" means something like start, a common start towards something else) – the Kinderfreunde festival of education and pedagogy is already over again and it was again a unique and unforgettable experience.
AUFBRUCH is so much more than a educational symposium: At AUFBRUCH, colleagues from all over Austria meet to enjoy top-class culture and fascinating speeches, to get to know new friends, to experience education in the most holistic sense, to sing, to laugh and to talk with each other – AUFBRUCH is realised in the Kinderfreunde/Rote Falken spirit.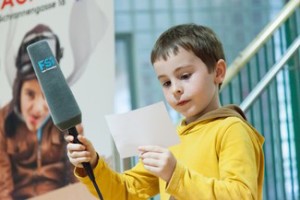 Kinderfreunde chairman Christian Oxonitsch and the minister of education Sonja Hammerschmid held the opening of AUFBRUCH. The minister emphasised that in Austria every single child has to have the same chances and possibilities.
Afterwards the sociologist and expert for migration Kenan Güngör talked in his keynote "Integration of refugees in challenging times" about the tasks a diverse society and the Kinderfreunde/Rote Falken have. Following up on this there was a panel discussion with him, the president of the Vienna School Board Jürgen Czernohorzsky, the chairwoman of the Socialist Youth Julia Herr and the secretary general of Rote Falken Bettina Schinninger about diversity and education. It was moderated by Susanne Pollinger.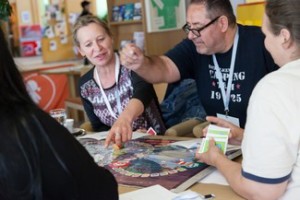 On Saturday there was a second keynote: Margret Rasfeld, headmistress and expert of education, explained her vision of a school that is based on the needs of children. After that Christian Oxonitsch took the stage again to tell the next part of our story of how to change the world. Within our campaign "Let's change the world" we have this story as a base to make people understand why we have to change the world. As an organisation, we have already taken 999 steps together but we want go further and now have three new companions: heart, brain and hand who will help us to defeat the monsters that defend the status-quo.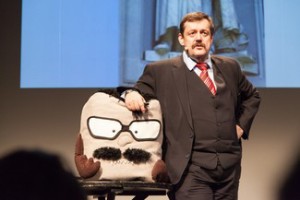 The rest of the day was filled with a big variety of different workshops – from a circus workshop to one about common welfare economics ("Gemeinwohlökonomie" – about how to set up a democratic, participative and open process to build up an economy that focuses on the common good) – everything was there. The number of offers was enormous. For children there was an own trail of workshops for all the weekend.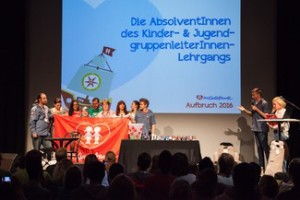 On Saturday evening, there was the handover of the certificates for the participants of our national children and youth group leaders course and afterwards two cabaret highlights: Thomas Maurer and Werner Gruber.
After another round of workshops on Sunday morning we finished the event by going the 999th step of the campaign together. Altogether it was an amazing, inspiring, intense and once more too short weekend from which we took a lot of positive energy home. Thanks to everyone who was there and made AUFBRUCH 2016 such an experience.