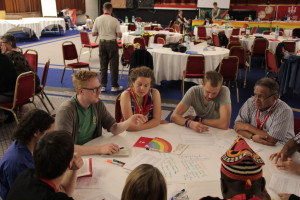 Just after our international camp, IFM-SEI will hold its 17th Congress!  The Congress is IFM-SEI's highest decision-making body, taking place every three years. During the Congress, the members of IFM-SEI decide on the priorities of IFM-SEI, adopt political resolutions, discuss finances and elect the Presidium, Secretary General and the Control Commission.
The next Congress will take place from 5-8 August on the Willy-Brandt campsite in Reinwarzhofen, Germany. This year's Congress will be special, because it follows right on from our international camp and will take place on the same campsite! More young people than ever will participate in taking decisions on our movement, and will be able to prepare for the congress during the camp.
The highlights of the Congress will be the election of a new Presidium and Secretary General, the decision on a Code of Conduct for IFM-SEI, a new membership fees system, the development of our next strategic work plan and moments of sharing and learning from each other. Have a look at the Programme of the Congress and find out more about what is being discussed in our "Rough Guide to Congress".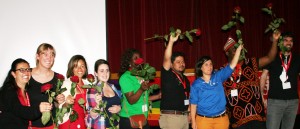 You can find all Congress documents on the website. They have also been e-mailed to all member, candidate and applicant organisations and directly to the delegates.
The registration deadline has already passed. Please make sure you send your arrival and departure details to the IFM-SEI secretariat as soon as possible.