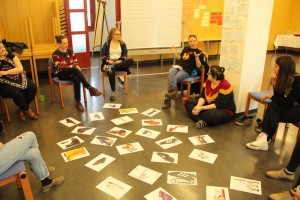 IFM-SEI's project 'The Group Matters' kicked off at the end of February in Vienna with a seminar/ working meeting for 10 participants from SJD – Die Falken, Nuoret Kotkat, Rote Falken Kinderfreunde,  Georgian Falcons, Woodcraft Folk, Slovenian Falcons and Esplac.
The project which is supported by the European Youth Foundation and Council of Europe aims to promote group work in IFM-SEI's member organisations, support group helpers and help and encourage volunteers to set up new groups!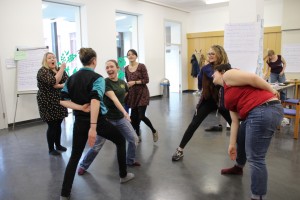 After making some tricky co-operative games look incredibly easy, we shared our experiences of the way groups work in our different organisations, what socialist education means for us, the benefits of group work and its challenges. We discussed how new groups can be set up and how we can best support IFM-SEI's member organisations, current and future group helpers to start new groups and make them sustainable.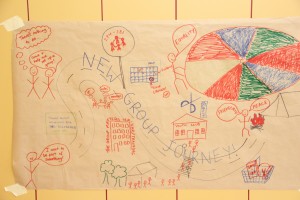 The seminar was kindly hosted by Rote Falken Kinderfreunde and we had fun in the free time going bowling with our Austrian comrades, sharing games, eating some typical Austrian food, exploring a bit of Vienna and playing a lot of 'ninja'!
In the second half of the meeting, we split into two working groups to simultaneously develop an activity pack to prepare groups for coming to the IFM-SEI Camp this summer and to really get started on the Group Matters campaign tools. So keep an eye out for the activity pack and the start of our campaign, which will both be launched in the coming weeks!