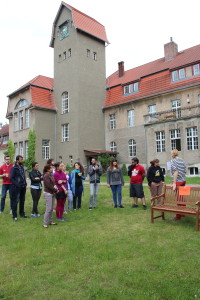 The Kurt Löwenstein Educational Centre warmly invites you to its international seminar "Refugees Welcome: Fighting Borders, Building Alliances". The seminar will take place from 8th till 15nd of May 2016 in the Kurt Löwenstein Haus. Around 30 Participants from member organizations of YES, IUSY and IFM-SEI will take part in the seminar. The seminar topic is on refuge and asylum politics. That means that we will examine the mechanisms of the European Border Regime and Politics of Asylum. We will also have a look at institutional racism that is being exerted on refugees in the receiving countries – isolation in camps, racial profiling, etc. Apart from these theoretical analyses we will focus on the development of projects and strategies that support refugees in their fight for recognition and freedom of movement. Therefore we not only want to talk about but also with refugee self-organizations.
Working language is English; therefore active English language skills are required. Together with around 30 comrades from more than 10 different organizations we will work for one week in workshops, working groups and political forums among other methods on the topic. Besides sharing work and lots of political debates, we will not forget to have fun together, self-organized by the participants. We will spend as well a day in Berlin and will celebrate together theme parties in our education centre.
Please register here for the seminar:
.com/forms/seminar-registration-form-may-2016/
The deadline for registration is the 24th of April. If you need a visa to enter Germany, we will need all the data for the visa application by the 1st of May.
The participation fee per person depends on the country you come from and will be 45-80 €. The venue will be the education centre "Kurt Löwenstein" of SJD-Die Falken in Werftpfuhl, 30km outside Berlin. The seminar will start on the 8th of May in the afternoon and will finish on the 15th of May around 12 to 1 pm.
If you have any questions, if you need more information, if you have any remarks, do not hesitate to contact Marie – m.wilpers@kurt-loewenstein.de or +49 (0) 33398899917