Check out what will happen in IFM-SEI in 2016!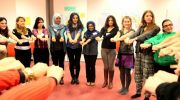 Also in 2016, we will organise lots of interesting activities for our members around the world. We are looking forward to a new global project around mobility and migration, will promote group work in our campaign "The Group Matters", will decide on the next years of IFM during our congress, organise a study session to help us better include children with disabilities, and of course enjoy the highlight of the year, the IFM-SEI Camp 'Welcome to Another World'!
Have a look in the Dates 2016 and put them into your diary!