IFM-SEI recently launched the next phase of its global child participation project with a seminar held in Liège, Belgium.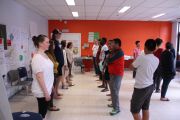 Following the event that took place in La Paz, Bolivia in January 2015, a second 'Partnerships for Participation' training course was organized from 05th to 12th July 2015 in the beautiful city of Liege, Belgium.
This event brought together 29 participants involved in the P4P project including 10 EVS volunteers and some of the children they are working with. Participants were from the following organisations: Esplac Catalunya (Spain), SJD Die Falken (Germany), Nuoret Kotkat (Finland), Liepajas Jaunie Vanagi (Latvia), IFM-SEI Secretariat (Belgium), OGCEYOD (Cameroon), CHAP 23 de Mayo (Peru), ACACIA (Colombia), KKSP (Indonesia) and Nueva Generacion (Bolivia).
This seminar was also an opportunity for the 10 EVS volunteer to meet once more, share about their experiences in their host countries and solve the potential issues that rose during their stay abroad. They could finally to get to know Constanza, our Colombian EVS volunteer who couldn't join us in Bolivia.
The EVS volunteers were accompanied by co-leaders from their host organisations as well as children who are participants or young leadesr in their participation projects. They were introduced to the concept of Child Participation and explored the different approaches concerning the topic with the support of EVS volunteers Merritxel Marin Casas and Jessica Gallardo Sánchez who coordinated a session on Child Participation.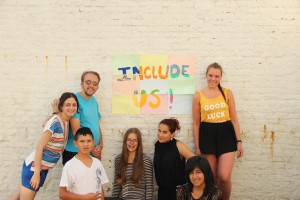 The seminar also provided a space to share progress of the work that has been carried out in their communities since the start of the project in the different host countries. Many groups made surveys with children about how and where they can participate in decision-making processes, started to work with children's groups and made contacts with schools or local authorities to involve them in the project. The group also reckoned about different possibilities at their disposition to persuade decision-makers of the advantages of youth participation.
Participants were invited to reflect on ways to disseminate what their learned during this seminar in their respective communities. To finish, we had the chance to attend a guided tour in the historical heart of Liege during which we learned more about the evolution of the city throughout various ages. Afterwards, we were received at the Provincial Palace by the Governor of Liege who expressed his support to our work in a speech and then had local dishes during our dinner in town.