NOV attended Israel's biggest pride event in Tel Aviv, Israel.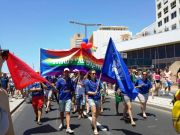 On June 12th our movement attended Israel's biggest pride event – the Tel Aviv pride parade.
We have been attending pride events throughout the country for the last 4 years, but this time we were organised to show all LGBTQA+ youth out there that they have a place, a home, that we have their backs.
We came with flags – NOV flags in red and blue, along with some special rainbow flags with our logo on them. We also held a big banner with the slogan "NOV – MY PLACE TO MAKE A CHANGE" (it sounds better in Hebrew…). In the pictures you can see us marching, and our booth where we sold these cool hats (Tel Aviv is very hot this time of year) – with the writing "see your true colors".
It was very hot and fun and loud and exciting and colorful, marching together for equality and inclusion. I can't wait to see many more queer youth joining our movement in the future.
Article by Dani Efrati
NOV